Redneck Seasonings Recipe Page
​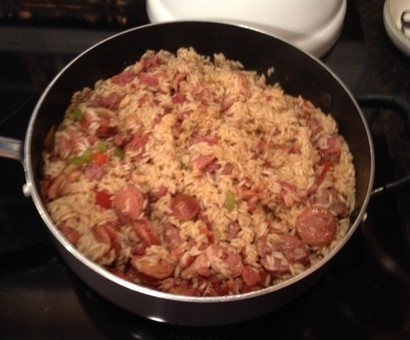 Cajun/Bayou Dirty Rice

Ingredients

2 cups Uncooked Long Grain Rice
~1 Tbsp Redneck Seasonings Dirty Rice Seasoning
1 – 1¼ lbs Meat Mixture
4 cups Chicken Broth
1 Tbsp Cooking Oil
~½ cup Red Bell Pepper (chopped small)

Note: Meat Mixture - Traditional meat mixture includes chicken livers, gizzards and pork. Redneck Seasonings meat mixture includes bacon (~1/2 lb), and andouille sausage (~1/2 lb).

1. Brown meat mixture in large skillet in the oil.

2. Stir in Redneck Seasonings Dirty Rice Seasoning and sauté about 1 minute.

3. Add red & green bell pepper and sauté 3-4 minutes on high heat stirring frequently.

4. Add the uncooked rice and chicken broth and mix well. Cover tightly and steam until rice is done and liquid absorbed. (Approximately 20-22 minutes)


---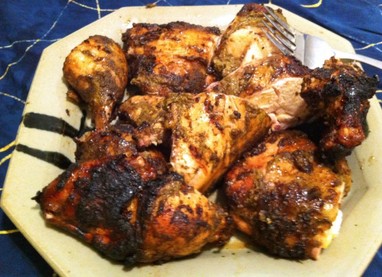 Redneck Seasonings Voodoo Chicken
Ingredients

4 chicken breast or thighs, skin on
2-3 tablespoons Voodoo Jamaican Jerk seasoning
1 ounce light Jamaican rum
1 ounce freshly squeezed lime juice
sprig mint leaves, crushed
1 teaspoon sugar
1/4 cup vegetable oil

Preparation Instructions

Combine all marinade ingredients in a Ziploc bag and mix thoroughly. Add the chicken and coat thoroughly. Let marinate in the refrigerator for at least two hours, ensuring the chicken is coated at all times. The longer the chicken marinates, the more intense the flavor will be. The alcohol and lime juice should "preserve" the chicken.

When ready to grill, remove from bag and pat dry. Let the chicken return to room temperature (about 10 minutes) while the grill is heating. Grill skin side down for about 5 minutes, then turn over, lower the heat, and grill until done.



---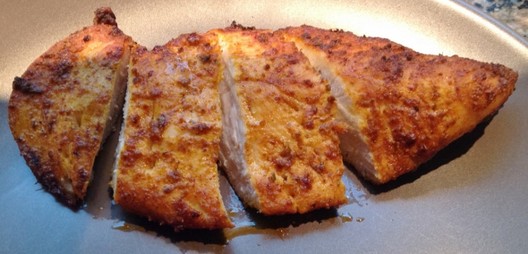 Israeli Spice Chicken

Ingredients

Redneck Seasonings Israeli Spice Rub
4 boneless, skinless chicken breasts (split, 8 pieces) 1 1/2 to 2 pounds
Extra-virgin olive oil, for drizzling
Warm pita or flat bread, for passing
Serving suggestions: Serve with tomato relish and zucchini (recipes follow). Piling the relish and the chicken in a warm pita is a fun way to combine the flavors and textures of the 2 recipes.

Orange and Yellow Tomato Relish:
3 vine ripe or small round red tomatoes
2 orange or yellow tomatoes
1 small sweet onion, thinly sliced
1/2 cup (2 handfuls) flat-leaf parsley leaves, chopped

Dressing:
3 tablespoons (a couple of glugs) extra-virgin olive oil
1 ripe lemon, juiced
1/2 teaspoon ground cumin
1/2 teaspoon ground coriander
1/2 teaspoon crushed red pepper flakes
Kosher salt

Zucchini with Mint and Parsley:
4 small, tender zucchini, about 1 1/2 pounds (look in organic section of produce counter)
3 tablespoons (3 turns around the pan) extra-virgin olive oil
3 cloves garlic, minced
1/4 cup (half a bundle) chopped fresh mint
1/2 cup chopped flat-leaf parsley leaves (a couple of handfuls)
Kosher salt and pepper

Directions

Place chicken in a shallow dish. Drizzle with extra-virgin olive oil to barely coat the meat. Rub chicken liberally with 4 tablespoons of Redneck Seasonings Israeli Spice Rub. Let stand 10 minutes.

Grill chicken 6 or 7 minutes on each side or until juices run clear.

Dressing:
Seed and chop the tomatoes and combine with onion and parsley in a shallow bowl. Combine oil, lemon juice, and spices in a small plastic container with a lid. Shake dressing to combine and pour over salad. Season salad with kosher salt and toss to combine well. Let stand 10 minutes and serve.

Yield: 4 servings

Zucchini with Mint and Parsley:
Heat a large skillet over medium heat. Cut zucchini into 1/4-inch slices. Add oil, garlic, and zucchini to pan and saute 7 to 8 minutes, turning occasionally with a firm shake of the skillet, until zucchini are just tender. Add mint, parsley, salt, and pepper, and cook 1 minute longer. Remove from heat and serve.

Yield: 4 servings
---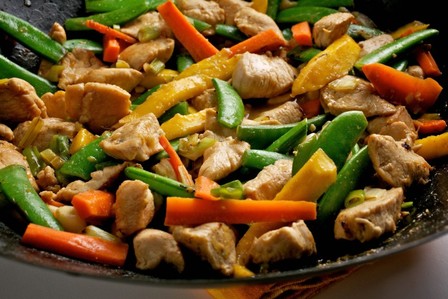 Siren's Song Stir-Fry

Ingredients:

1 cup water
2 tablespoons Siren's Song Seasoning
4 teaspoons cornstarch
2 tablespoons vegetable oil, divided
3 cups assorted cut-up vegetables
1 pound boneless skinless chicken breasts, cut
into thin strips
Cooking Instructions:

MIX water, Siren's Song and cornstarch in small bowl until smooth. Set aside.

HEAT 1 tablespoon of the oil in large nonstick skillet on medium-high heat. Add vegetables; stir fry 3 minutes. Remove from skillet. Heat remaining 1 tablespoon oil in skillet. Add chicken; stir fry 5 minutes or until cooked through. Return vegetables to skillet.

STIR sauce mixture. Add to skillet. Stirring constantly, bring to boil on medium heat. Boil 1 minute or until sauce is slightly thickened.
​
---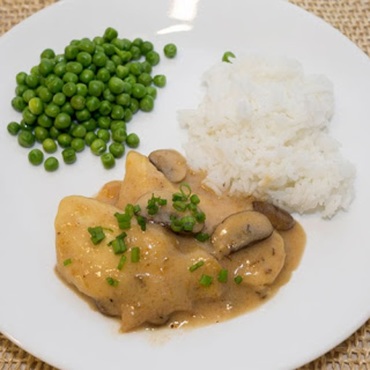 ​Redneck Seasonings Quintessence Chicken
Yield – 4 servings

Ingredients

1.4 lb. chicken breast
3 Tbsp canola oil
2 Tbsp Redneck Seasonings Quintessence of Redneck
​ Seasoning
1 cup brown rice
1 bag Steamers peas

Directions

Marinate the chicken breast in the canola oil and seasonings for at least 30 minutes, in the fridge. Or longer. Ideally.

Bake the chicken in a glass baking dish at 350 for 45-55 minutes, or until the chicken has cooked through.

Cook brown rice as directed on bag. Raw brown rice takes 50 minutes to cook. Plan accordingly.

Cook the peas as directed on the package.

Serve Redneck Seasonings Quintessence Chicken with Brown Rice and Peas.
​

---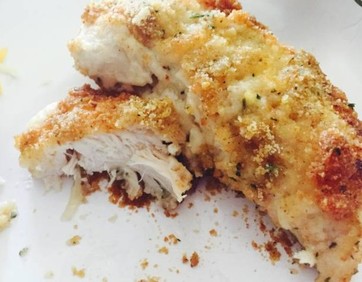 Baked Parmesan Crusted Chicken

Ingredients

4 Chicken breast
½ Cups Mayonnaise
½ Cups Italian bread crumbs
¼ Cups Shredded Parmesan Cheese
½ Teaspoons Garlic Powder
½ Teaspoons Seasoning Salt
1 Tablespoon Redneck Seasonings' Italian Seasoning
​ Blend

Directions

First get your chicken breast out.

Then in a bowl mix in your mayonnaise and ALL of your seasonings. But don't put in your parmesan cheese and Italian bread crumbs.

Lay your chicken breast into a 9X13 pan and preheat the oven to 425 :)

Lightly cover the tops of your chicken breast with the mayonnaise mixture. Don't forget the sides or else it might come out dry.

Then sprinkle on your bread crumbs try to make it as even as possible.

Then sprinkle on your parmesan cheese and place in the oven for 20 minutes or until fully cooked.

And you're done!
​

---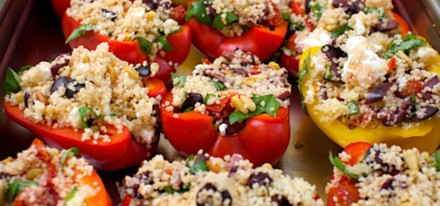 Mediterranean-Style Stuffed Peppers

Ingredients

1 cup uncooked fragrant rice (brown or white)
1 1/2 teaspoons Redneck Seasonings' Greek Seasoning Blend
4 sweet bell peppers
1/4 cup drained sun-dried tomatoes packed in oil
2 cloves garlic, minced
1/2 cup cooked white beans
1/3 cup feta cheese
4 green onions, diced
2 tablespoons olive oil
3 tablespoons toasted pine nuts

Instructions

Rinse the rice thoroughly until the water runs clear. Add in appropriate amount of water for the type of rice you are using, stir in the Greek spice blend, and cook until tender on the stove or in a rice cooker.

When the rice is finished, preheat oven to 350º F. Cut around the top of the bell peppers and pull out the seeds. Remove any additional seed and membrane with a spoon or knife. In a food processor, blend together sun-dried tomatoes and garlic until a paste forms.

In a large bowl, mix together the cooked and seasoned rice, sun-dried tomato paste, white beans, half the feta cheese, green onions, and the olive oil. Spoon the rice into the center of the bell peppers and top with remaining cheese.

Stand the bell peppers up in an 8x8" baking dish. Bake for 25 minutes or until the skins start to shrivel and the feta cheese on top is starting to turn a golden brown. Remove from oven, cool slightly, and sprinkle with pine nuts. Serve warm.
​

---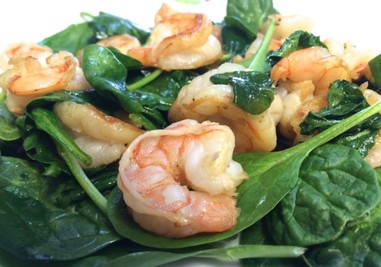 Redneck Seasonings Shrimp & Sautéed Spinach

Ingredients

1 pound cleaned, deveined and shelled large shrimp
2½ Tbsp olive oil
1½ Tbsp Redneck Seasonings Siren's Song Seasoning
¼ cup dry white wine
3 cups fresh spinach

Directions

In a medium skillet, add 1 tablespoon of olive oil and heat until a slight shimmer occurs on the surface.

In a separate bowl combine the shrimp, 1 tablespoon of olive oil and the Redneck Seasonings Siren's Song seasoning, tossing lightly until shrimp are thoroughly coated.

Add the shrimp to the hot skillet, quickly sautéing until they are cooked and turn opaque. Pour in wine to quickly bubble and deglaze the skillet, scraping up the delicious brown "bits" on the bottom.

Remove shrimp to a small bowl and cover to keep warm.

In the same skillet, add in the final 1/2 tablespoon of olive oil and toss in the spinach or kale, quickly stirring until the leaves are just wilted. Throw the shrimp back in for a final "toss", then plate up on a small serving dish.
​

---
Redneck Seasonings Texas Pork Ribs

Ingredients

6 pounds pork spareribs
1 1/2 cups white sugar
1/4 cup salt
1 ½ Tbsp ground black pepper
1 ½ Tbsp sweet paprika
3 Tbsp Redneck Seasonings BBQ Spice or
Redneck Seasonings BBQ Spice Zingy
1 teaspoon cayenne pepper (OMIT if using Zingy
BBQ Spice)
1 Tbsp garlic powder
5 Tbsp pan drippings
1/2 cup chopped onion
4 cups ketchup
3 cups hot water
4 Tbsp brown sugar
salt and pepper to taste

1 cup wood chips, soaked

Directions

Clean the ribs, and trim away any excess fat.

In a medium bowl, stir together the sugar, 1/4 cup salt, ground black pepper, paprika, cayenne, Redneck Seasonings BBQ Spice (if using Redneck Seasonings BBQ Spice – Zingy omit Cayenne), and garlic powder. Coat ribs liberally with spice mix.

Place the ribs in two 10x15 inch roasting pans, piling two racks of ribs per pan. Cover, and refrigerate for at least 8 hours.

Preheat oven to 275 degrees F (135 degrees C). Bake uncovered for 3 to 4 hours, or until the ribs are tender and nearly fall apart.

Remove 5 tablespoons of drippings from the bottom of the roasting pans, and place in a skillet over medium heat. Cook onion in pan drippings until lightly browned and tender. Stir in ketchup, and heat for 3 to 4 more minutes, stirring constantly.

Next, mix in water and brown sugar, and season to taste with salt and pepper.

Reduce heat to low, cover, and simmer for 1 hour, adding water as necessary to achieve desired thickness.

Preheat grill for medium-low heat.
When ready to grill, add soaked wood chips to the coals or to the smoker box of a gas grill. Lightly oil grill grate.

Place ribs on the grill two racks at a time so they are not crowded.

Cook for 20 minutes, turning occasionally.

Baste ribs with sauce during the last 10 minutes of grilling, so the sauce does not burn.

​

---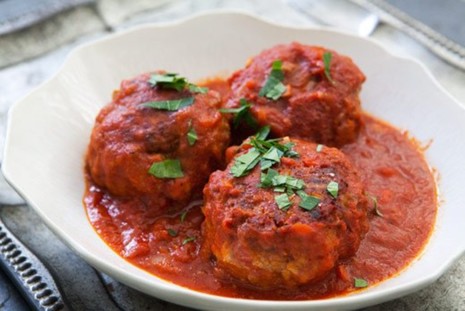 Italian Style Meatballs

INGREDIENTS

1 Pounds Ground Beef or Ground Turkey
¾ Cups Panko bread crumbs
1 Egg
2 Teaspoons Olive oil
⅓ Cups Chopped onion
1 Tablespoon Redneck Seasonings' Italian
Seasoning Blend
1 Tablespoon Tomato paste
1 Tablespoon Brown sugar
1 Teaspoon Salt
½ Teaspoons Black pepper
2 Tablespoons Grated Parmesean cheese
2 Cloves minced garlic

Instructions

Start by heating the olive oil over medium heat. Add the chopped onion, minced garlic and Italian market seasonings.

After a few minutes, the onion will start to soften and cook down. Add the tomato paste and continue to cook for another minute or two.
Turn off the heat, and add a tablespoon of brown sugar. Stir it in well. Let cool. Turn off the heat, and add a tablespoon of brown sugar. Stir it in well. Let cool.

Into a large bowl, add the ground meat, egg, bread crumbs, Parmesan cheese, salt and pepper, and your cooled onion mixture.

Combine the ingredients well using your hands.

Take a few tablespoons of mixture at a time and roll into a ball. Mine were slightly larger than the size of a golf ball. I rolled 13 meatballs.

Into your same pot, add approximately half of a jar of your favorite sauce.

Bring the sauce to a simmer and add your meatballs. Leave enough room so that they fit comfortably, with a little space between each.

Cover and simmer for 20 minutes. My OCD requires me to then flip the meatballs, but that may not be necessary 😉 Simmer for another 20 minutes, 40 minutes total.

Meatballs are done when internal temp reads 160 on a meat thermometer.

​

---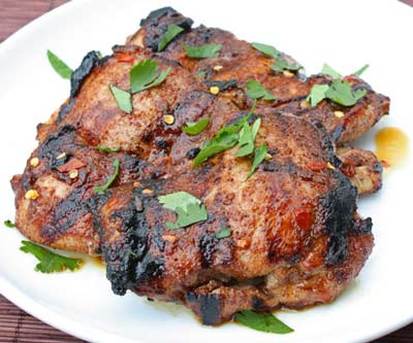 Grilled 5-Spice Chicken

INGREDIENTS

1 whole chicken (about 2 1/2 pounds), rinsed
3 tablespoons vegetable oil
2 tablespoons soy sauce
3 tablespoons minced ginger
2 tablespoons minced garlic
2 tablespoons sugar
2 teaspoons ground turmeric
1 teaspoon Redneck Seasonings Chinese Five-Spice
Seasoning
1/2 tablespoon sea salt
4 whole star anise, lightly toasted in a dry pan for 3 minutes, pounded or ground into a fine powder
1/2 cup Soy-Lime Dipping Sauce

PREPARATION

1. Cut the chicken into 6 pieces and make 1 or 2 slashes in each piece for faster cooking. Trim and discard any excess fat. Pat the chicken dry.

2. In a bowl, combine the oil, soy sauce, ginger, garlic, sugar, turmeric, Redneck Seasonings Chinese Five-Spice Seasoning and salt. Stir well to blend. Add the chicken pieces and turn several times to coat them evenly. Marinate in the refrigerator for at least 4 hours.

3. Start a charcoal grill or preheat a gas grill to moderate heat. (You can also use a broiler.) Thirty minutes before cooking, add the freshly toasted star anise powder to the marinated chicken, turning so the meat is coated evenly.

4. Place the chicken, skin side up, on the grill. Cook 10 minutes, then turn over and grill until the chicken is cooked and the juices run clear, another 10 minutes, depending on the thickness. While grilling, move the chicken pieces around so that they cook evenly. Transfer the chicken to a serving platter and serve with the dipping sauce.
​

---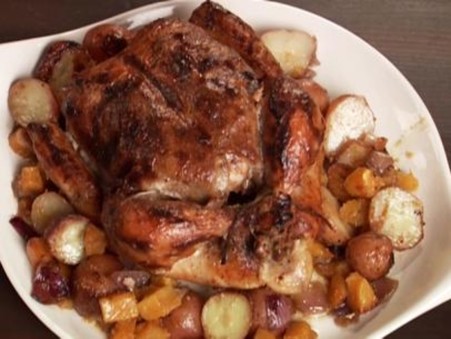 Garam Masala Chicken with Roasted Vegetables

Ingredients

1/2 cup peanut oil
4 teaspoons Redneck Seasonings Garam Masala
1 (2-inch) piece ginger, sliced
8 medium garlic cloves, smashed
2 tablespoons kosher salt
1 (4 to 5 pound) whole chicken
1 1/2 pounds red potatoes, halved
1 pound butternut squash, large dice
1 medium red onion, large dice
Freshly ground black pepper
1/2 cup plain whole milk yogurt

Directions

In a small bowl, mix together 1/4 cup oil, Redneck Seasonings Garam Masala, ginger, garlic, and 1 tablespoon salt. Place chicken in a large baking dish or plastic bag, loosen the skin from the breast and legs of the chicken and, using your hands, spread a good part of the mixture underneath. Rub the remaining mixture inside the chicken cavity and over the skin. Tie the legs together with kitchen twine. Loosely cover, refrigerate, and let marinate 30 minutes or up to 12 hours.

Arrange the rack in the center of the oven and heat oven to 400 degrees F.
Remove chicken from marinade, let any excess drip off, and reserve marinade. Let chicken sit at room temperature while oven warms up, about 30 minutes.

When the oven is heated, place potatoes, squash, and onions in bottom of a roasting pan, drizzle with any remaining marinade, remaining 1/4 cup oil, remaining 1 tablespoon salt, and season well freshly ground black pepper. Toss to coat. Place chicken, breast side up, on top of vegetables and roast until skin becomes brown and vegetables are starting to get tender, about 1 hour. Brush yogurt on chicken and continue roasting until chicken is well browned, juices run clear when inner thigh is pierced with a knife, legs move easily in the joint, and a meat thermometer inserted into the thickest portion of the thigh registers160 to 165 degrees F on an instant-read thermometer, about another 40 to 50 minutes. Let chicken rest at least 10 to 15 minutes before serving.
​

---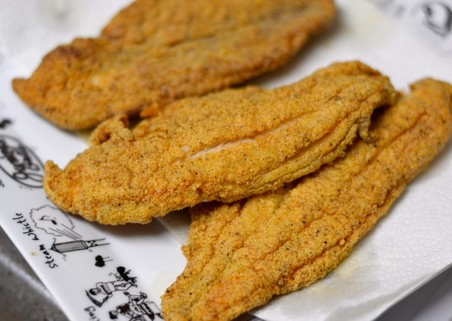 Redneck Seasonings Catfish Fry

Ingredients

6 (3/4- to 1-lb.) catfish fillets
1 cup buttermilk
1 tablespoon Redneck Seasonings Bayou Bay
Seafood & Crab Boil Seasoning
1 1/2 teaspoons salt
2 cups (about 8 2/3 oz.) self-rising cornmeal mix
1 1/2 to 2 qt. peanut oil

Preparation

1. Cut shallow diagonal slices 2 inches apart into thickest portion of both sides of fillets. Place fillets in a large shallow dish.

2. Stir together buttermilk, pepper, and salt; pour over fillets. Cover and chill 8 to 24 hours, turning fillets occasionally.

3. Remove fillets from marinade; discard marinade. Dredge fillets in cornmeal mix, pressing to adhere.

4. Pour peanut oil to a depth of 1 1/2 inches in a large cast-iron Dutch oven or deep skillet; heat over medium-high to 370°F. Fry fish, 2 fillets at a time, until golden, about 6 minutes. Drain on wire rack lined with paper towels.
​

---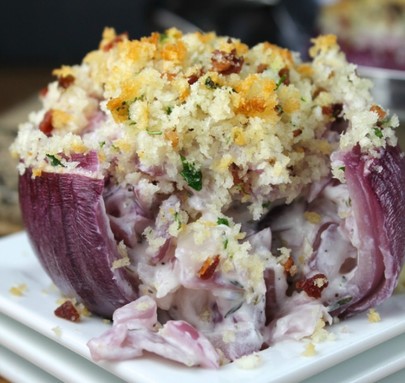 CREAMY ROASTED RED ONIONS

INGREDIENTS

For the Onions
4 medium-sized red onions
1 tablespoon olive oil
¼ teaspoon salt
For the Filling
3 oz cream cheese, softened
¼ cup sour cream
1 teaspoon salt
1 teaspoon Redneck Seasonings' Herbs de Provence
½ teaspoon grated or minced garlic

For Topping
½ cup Panko bread crumbs
1 tablespoon butter, melted
2 slices bacon, cooked and crumbled
1 tablespoon fresh parsley, chopped fine
Order Ingredients

INSTRUCTIONS

Preheat oven to 400 degrees F.

Peel the onions. Trim the root ends so they will set upright and cut about ½ inch from the tops. Drizzle olive oil over onions and rub it all over. Season with ¼ teaspoon salt.

Bake for 50 minutes. Remove from oven and allow to cool slightly.

Gently remove the centers of the onions leaving a shell - leave 2 to 3 layers.

Return a slice of the center to each to form a bottom.

Coarsely chop onion centers.

In a bowl combine cream cheese, sour cream, salt, Redneck Seasonings' Herbs de Provence, garlic and chopped onions.

Spoon filling into shells.

In a small bowl combine Panko, butter, bacon and parsley.
Spoon carefully over stuffed onions.

Bake for 20 minutes or until filling is heated through and bread crumbs just start to brown.

Serve immediately.
---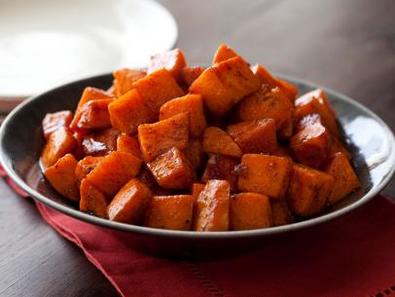 Bahārāt Roasted Sweet Potatoes Recipe

Ingredients

2 large sweet potatoes
2 tsp kosher salt
1 tsp Redneck Seasonings Bahārāt Spice blend
1/4 tsp cayenne pepper
1 tsp packed brown sugar
3-4 tbsp extra virgin olive oil, or canola oil

Directions

Preheat oven to 425 degrees Fahrenheit.

1. To prepare sweet potatoes, either peel them to remove the skins, or wash and dry them thoroughly if leaving the skins on (based on your preference). Slice the potato lengthwise into about 3-4 slabs, each about 1/2 inch thick, then slice the slabs lengthwise again into long sticks, about 1/2 inch thick. Or, if you prefer, slice the potato into rounds, about 1/2 inch thick.

2. Next, in a small bowl, whisk together the remaining ingredients until well combined.

3. On a rimmed baking sheet, spread potatoes evenly, then drizzle with the spice glaze. Using your hands or tongs, toss the potatoes on the baking sheet until they are evenly coated with the glaze, then spread them out to roast them in a single layer. Roast them in a preheated oven for about 8-10 minutes, until they are fragrant and beginning to brown. Remove them from the oven, turn them over, and then return them to the oven to roast for an additional 8-10 minutes or until they are crispy and a dark caramel color. Remove from the oven and serve immediately.


---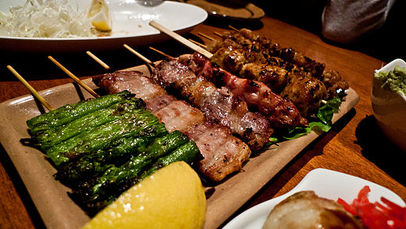 ​Roast Bahārāt Chicken

SERVES 4-6 PREPARATION 10 mins,
plus marinating time COOKING 20 mins

INGREDIENTS

6 large chicken thighs, boneless and skinless
3 garlic cloves, crushed
1 heaped Tbsp Redneck Seasonings Bahārāt Seasoning
Juice ½ lemon

Pitta bread, to serve
Coriander, to serve
Plain yoghurt, to serve

Method

Cut each thigh into strips and place in a bowl. Sprinkle with the garlic and the Bahārāt. Mix well and leave to marinate in the fridge for at least one hour (up to six).

Using two metal skewers about 5cm (2in) apart, thread a quarter of the meat onto the skewers. Repeat, making 4 pairs of skewers in total. Make sure that the chicken is packed quite tightly.

Heat the oven to 425 degrees F. Sear the skewers in a hot frying pan, then transfer to the oven. Roast until golden and cooked (about 15 mins).

Rest for 5 mins and squeeze over lemon juice.

Serve in pitta pockets with coriander and yoghurt, and salad.
---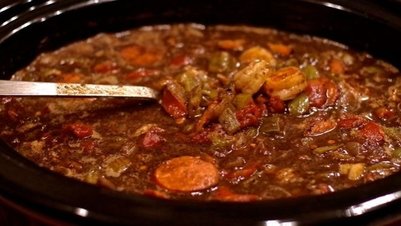 Redneck Seasonings Shrimp and Sausage Gumbo

Ingredients

1/2 cup all-purpose flour
1 pound andouille sausage, sliced
1 (14.5-oz.) can diced tomatoes
1 large onion, chopped
1 large green bell pepper, chopped
2 celery ribs, chopped
4 garlic cloves, chopped
3 bay leaves
2 teaspoons Redneck Seasonings Dirty Rice or Redneck Seasonings
Cajun Poultry seasoning
1/2 teaspoon dried thyme
4 cups chicken broth
3 pounds unpeeled, large raw shrimp, peeled and deveined
1 bunch green onions, sliced
1/4 cup chopped fresh flat-leaf parsley
Garnish: sliced green onions

Preparation

1. Preheat oven to 400°. Sprinkle flour in a 9-inch cast-iron skillet. Bake 10 to 15 minutes or until golden brown, stirring once. Cool 10 minutes.

2. Meanwhile, cook sausage in a Dutch oven over medium heat, stirring occasionally, 5 minutes or until browned. Drain on paper towels. Place sausage in a 6-qt. slow cooker; add tomatoes and next 7 ingredients.

3. Whisk together browned flour and broth until smooth. Pour into slow cooker. Cover and cook on HIGH 5 to 6 hours. Stir in shrimp, green onions, and parsley. Cover and cook on HIGH 30 minutes, stirring once. Discard bay leaves before serving.
​

---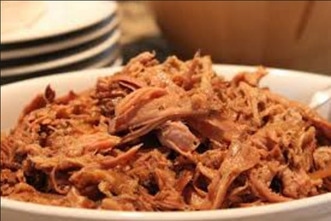 Redneck Seasonings Pulled Pork Recipe
85.0g Jar Treats 4 1/2 – 5 lbs of Pork

Directions

Generously rub Redneck Seasonings Pulled Pork Rub & Seasoning into meat. Make sure to cover all parts of the meat.

Place in smoker and smoke at 225 degrees F. uncovered for 8 hours in an aluminum pan. Applewood suggested. If you don't have a smoker, use your oven.

Collect juices and strain. Wrap butt in aluminum foil several times.

If using an oven, mix in 1 tsp liquid smoke into the collected juices. Inject juices back into butt.

Wrap in aluminum foil again.

Bake at 225 degrees F. for another 8 hours to 195 – 205 degrees F. internally.

Pull & Serve.
---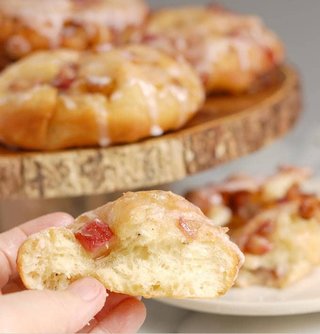 Rhubarb Fritters with Cardamom & Alligator Pepper

Ingredients

Dough
3 1/2 cups (18 oz, 525g) all purpose flour
1/4 teaspoon baking soda
1 teaspoon salt
1/2 teaspoon cardamom
1 teaspoon Redneck Seasonings Alligator Pepper
1 cup (250ml) buttermilk, room temperature
4 tablespoons (2 oz, 55g) butter, melted
2 eggs, room temperature
1/2 cup (4 oz, 115g) granulated sugar
1 tablespoon dry yeast

Rhubarb
1 1/2 pounds rhubarb (6 cups diced, 675g) diced into 1/2" pieces
1 cup (8 oz, 225g) granulated sugar
pinch of salt

Rhubarb Glaze
8 oz (2 cups, 230g) powdered sugar
Juice from the rhubarb
Juice of 1 lemon

Instructions

Dough
Whisk together 2 cups of the flour, baking soda, salt and spices. Set aside.

Combine the buttermilk, melted butter, eggs, sugar and yeast in a mixer bowl.

Mix with the paddle or beater until combined. (Or mix by hand)
Add the dry ingredients and mix for 1 minute until it forms a thick batter.
Switch to the dough hook.

Add enough of the remaining flour until the dough gathers on the hook and begins to clear the sides of the bowl.
Knead the dough on the mixer for 5 minutes. Sprinkle more flour if the dough begins to stick to the sides of the bowl.
Turn the dough out onto a well floured surface and knead until the dough is smooth, supple and not sticky. Use a little more flour as needed.

Form the dough into a smooth ball and place it into a lightly oiled bowl, turning once to coat the dough.

Cover with plastic wrap and set aside until doubled in volume (about 1-2 hours).

Rhubarb
Toss the diced rhubarb with the sugar and salt, allow to macerate for at least 60 minutes.
Drain the juice from the rhubarb into a small pot.

Glaze
Cook the rhubarb juice over medium low heat until the sugar is melted.
Combine the powdered sugar with the lemon juice, add enough of the rhubarb juice to form a glaze that has the consistency of thin pancake batter. You can use a little extra lemon juice if you run out of rhubarb juice and the glaze is still too thick.

Roll the Fritters
Turn the dough out onto a floured surface and knead into a smooth ball.
Roll to a 16" x 12" rectangle.

Distribute 2/3 the rhubarb evenly over 1/2 the surface of the dough

Fold the dough over the rhubarb.
Gently press with your hands or rolling pin until the roll is flattened to 1" thick and the rhubarb is embedded in the dough. If you get air bubbles just poke the dough with the tip of a knife to release the trapped air.

Scatter the remaining rhubarb over 1/2 the dough and fold in half again.
Flatten to embed the rhubarb into the dough and form into a 12" x 3" log.
Use a bench scraper to cut into 12 even pieces.

Use your hands to pinch each piece of dough into a rough disc shape, and to contain the rhubarb.

If some pieces of rhubarb fall out, push them back into the dough. Don't worry if they're not perfect, they aren't supposed to be.
If some fritters have too much rhubarb and some have too little simply pluck pieces of rhubarb out of one and push it into the other.

Place on a silpat or parchment lined sheet pan dusted with flour
Cover and allow to rise until almost doubled, about 1 hour.

The fritters should feel light and puffy. When you poke the dough with the tip of your finger the dent should slowly fill in. If it bounces right back it's not ready.

Meanwhile, heat 2 quarts of oil to 350°F in a large Dutch oven.

Fry the fritters a couple at a time, about 4-5 minutes per side.

Drain on a cooling rack while continuing to fry the rest of the fritters.

While the fritters are still slightly warm dip the top of each fritter into the glaze and return to the cooling rack to set the glaze.

Best eaten warm or within a couple of hours of frying.
​


---
Voodoo Burgers

Ingredients:

3 Tbsp Redneck Seasonings Voodoo Jamaican Jerk Seasoning
3 Tbsp Orange Juice
2 Tbsp Lime Juice
2 Tbsp Apple Cider Vinegar
1 Tbsp Soy Sauce
1 lb Ground Beef (We Use 80%)

Directions:

Mix all ingredients in a large bowl.

Form patties and grill over medium coals until desired degree of doneness.

Serve on hoagie rolls

Serves: 4
​
​
---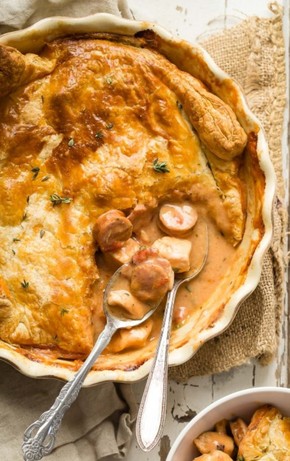 Jambalaya Style Chicken Pot Pie

Ingredients

2 Medium Sized Chicken Breasts Cut Into 1- Cubes
3 Tbsp Olive Oil
4 Slices Bacon, Chopped
1 Andouille Sausage About 6-8 Inches Long, Sliced
1/2 cup Diced Onion
2 cloves garlic, minced
3 Tbsp butter
3 Tbsp All-Purpose Flour
1 cup Chicken Stock
1/2 Cup Milk
2 Tbsp Redneck Seasonings Cajun Blackening Seasoning
1/2 Cup Diced Red or Green Pepper
1 Cup Diced Canned Tomatoes
1 Sheet Frozen Puff Pastry, Thawed
1 Egg, Beaten

Instructions

Preheat the oven to 400 degrees F. You'll need a 10 x 2-inch deep pie dish.

In a large pan, heat the olive oil and add the cubed chicken, bacon, sausage, onion and garlic.

Cook on medium high until the chicken is nicely browned and then transfer the contents to a bowl. It doesn't need to be fully cooked at this point.

Place the pan back on a low heat and melt the butter.

Add the flour and whisk together for about 3-4 minutes.

Turn the heat up to medium and gradually add the chicken stock, whisking after each addition to clear any lumps.

Start to add the milk in the same way once the stock has been added and bring to a simmer, still whisking.

Add the thyme, add the Redneck Seasonings Cajun Blackening Season and whisk for about 4-5 more minutes turning down the heat if it starts to bubble too much.

Stir in the diced green peppers and tomato and then add the meat mixture that was browned at the beginning.

Transfer the whole mixture to your pie dish and spread out evenly.

Make sure the puff pastry is large enough to cover the pie dish and roll it out a little further if it needs to be larger.

Place the pastry on top of the filling and gently tuck the edges in around the dish.

Using a pastry brush, glaze the puff pastry with the beaten egg.

Place the pie into the oven and bake for about 40 minutes and the pastry turns a deep golden brown and the filling starts to bubble around the edges of the pie dish.

Serve at once by scooping portions into separate bowls.


​

---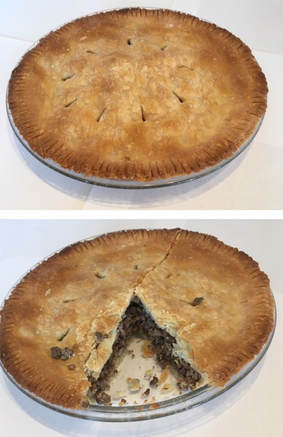 Redneck Seasonings
French Canadian Tourtiere (Meat Pie)

Ingredients

1 pound lean ground pork
1/2 pound lean ground beef
1 onion, diced or 2 Tbsp Granulated/Dehydrated Onion
1 clove garlic, minced or 1 tsp Granulated Garlic
1/2 cup water
1 ½ tsp salt
1 Tbsp + 1 tsp of Redneck Seasonings Tourtiere Spice
1 recipe pastry for a 9 inch double crust pie

Directions

In a saucepan, combine pork, beef, onion, garlic, water, salt and Redneck Seasonings Tourtiere Spice .

Cook over medium heat until mixture boils; stirring occasionally.

Reduce heat to low and simmer until meat is cooked, about 5 minutes.

Allow to cool to room temperature.

Preheat oven to 425 degrees F (220 degrees C).

Spoon the meat mixture into the pie crust.

Place top crust on top of pie and pinch edges to seal.

Cut slits in top crust so steam can escape.

Cover edges of pie with strips of aluminum foil.
Bake in preheated oven for 20 minutes; remove foil and return to oven.

Bake for an additional 15 to 20 minutes, or until golden brown.

Let cool 10 minutes before slicing.

Comments
I made this pie yesterday and let it sit overnight. It is great! A couple of suggestions:

1. Use LEVEL tsp & Tbsp measurements. A little extra might be a bit too much for some people.
2. When cooking the meat, try to break-up the ground meat into the smallest pieces you can.

Enjoy the clove & cinnamon aroma as you prepare this pie. I nuked the piece of pie I cut for 30 seconds in an 1,100 watt microwave and it was just right. I can't find the words that describe the flavor of this pie. It taste great and has a haunting flavor that intrigues.
---